For those of you who don't know her, Charlotte is our County Youth Commissioner and an ASL at 12th Ruislip, having been a Young Leader.  She's attending the 15th World Scout Moot in Iceland this summer. Over to Charlotte…
"Hello guys! So what is this all about?
At the end of July I, along with roughly 750 Scouting and Girlguiding volunteers aged 18 and upwards from the United Kingdom will be heading over to Iceland to join in with the 15th World Scout Moot. It's a very exciting thing for me as this will be my first international experience within Scouting.
When I first signed up for the Moot it was a scary but exciting experience, I didn't know anyone who was going and therefore was a little apprehensive but thats now all gone as during my two briefing weekends for the Moot I have met so many incredible people and really can't wait to see them all again.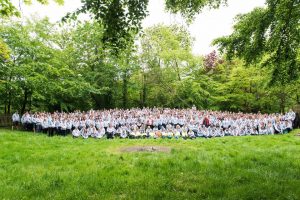 But it isn't just people from the UK I'll be meeting, its people from all around the world. In my patrol alone there are 8 different nationalities from Hungary to Australia!
So what is the Moot all about?
The Moot is split into two parts, for the first part everyone will meet in Reykjavik for a huge opening ceremony before patrols will be sent into various expeditions centres around the country, for me that is Hafnarfjörður. My patrol, along with other patrols will make up a tribe that will cook, eat and camp together whilst carrying out activities such as sailing, canoeing, hiking and looking the volcanic activity right under our feet!
After this comes the second part of the moot, when over 4000 people will converge on Althingi and will take part in international activities and a learn about the beautiful country of Iceland. It is hard to summarise a Moot in under 500 words but truly believe it is going to be an experience of a lifetime with memories that will last one too.
What is next?
The flights are booked, the tickets are nearly in my hand and on the 24th July 2017 I will be flying into Iceland to start my first big adventure, so why don't you come along with me? Follow me on Facebook, twitter and my blog to check out everything I'm up to and maybe I can inspire you to take up an adventure of a lifetime too!"